Designer: Creative Clay
Creative Clay handmade ceramic homewares bring a unique visual experience to any wall or space in your home. "I focus on the beauty created by Mother Nature. My work maintains an element of being eroded and fragile but the flora and fauna bring life to the piece'.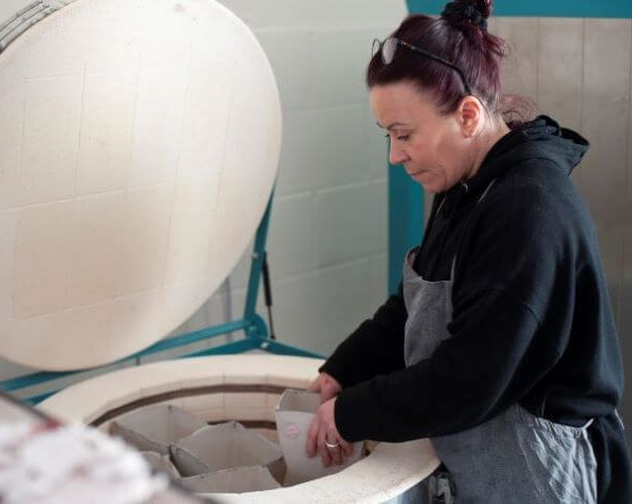 About Creative Clay
Irish Ceramicist Raquel Walsh is the designer and maker behind Creative Clay. From her workhop in Co. Clare Raquel creates a range of ceramic pieces that are inspired by the natural beauty of the landscape around her, in particular the Burren.
Her creations are influenced by the marks that time weather and use leave behind and decorated with wildflowers often found growing along the hedgerows of Ireland. (Look out for the ladybird that appears on every piece.)
Each ceramic piece is individually assemble, decorated, and hand painted so no two pieces can ever be the same. Exquisite craftmanship and finish create the WOW factor that is characteristic of Creative Clay.
Discover more about Creative Clay
My pieces are made from rolled out slabs of stoneware clay. I use these slabs to create Square Vases, Candle Holder, Wall Plaques and contemporary Holy Water Fonts. Once asembled they are decorated with Wildflowers, Butterflies and my trademark ladybird. They are all hand painted, bisque fired then glazed in a transparent glaze and fired a second time to achieve a strong durable forever piece for the home. Transforming that soft wet lump of clay into something really beautiful and permanent for you to enjoy - that is my joy :-)
Inpired by the landscape arround me my rugged weathered forms are representative of the erosion and fragility of the landscape and the often-harsh conditions nature creates. The wildflowers, butterflies and the ladybird bring the piece to life and is a reminder that life can always find a way to adapt and evolve to the conditions surrounding it.