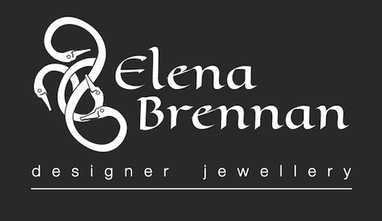 Designer: Elena Brennan Jewellery
Elena is a Jewellery Designer, Wax Modeller and Goldsmith who creates beautiful, intricate jewellery in Sterling Silver and Gold. Her work is graceful and very three-dimensional with lots of flow and swirling lines, echoing her Celtic roots and love of the Art Nouveau style.
About Elena Brennan Jewellery
Jewellery designer Elena Brennan uses precious metal and gemstones to weave magic and create a jewellery collection like no other. Elena takes her inspiration from Celtic legends and the beauty of Art Nouveau to create delicate, intricate pieces in hand finished silver and gold. A sculptor at heart, she hand-carves each new design in wax first before casting in precious metals. She takes great care to make each piece as detailed and three dimensional as possible. "My pieces are all about flow and form, "says Elena this is reflected in the sinuous grace of her work.
Discover more about Elena Brennan Jewellery
First I come up with a design by lots of research and drawing , and redrawing until I am happy with it. Next step is create a master pattern. Depending on the piece, I will either carve/model this is wax, if it is a very three dimensional piece, or for a flatter design, I will carve/engrave it into silver sheet. When all the carving / modelling /engraving, is finished,if wax, the piece will be cast in sterling silver using the lost wax casting method. The piece is now in silver and I re-carve where needed fine tune it and polish it up to a high finish. This piece becomes my master pattern. A mold is made of this master and from that mold, waxes are taken and cast up to become production pieces. For bespoke jewellery only the master pattern is made and it becomes the bespoke one off piece.