Designer: Louise Loughman Artist
Gifts
Fashion
Accessories
Monaghan
Colourful Celtics on luxurious silks. Each scarf is hand painted in colour hues that explode with vibrant flashes and subtle washes twisting and swirling around the spiral designs that move throughout the scarf in a dream like fashion.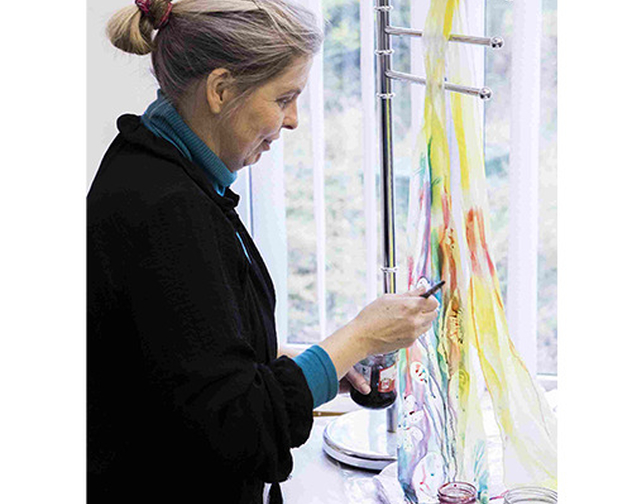 About Louise Loughman Artist
Louise set up her business in 2009 and is based in Swallow Studios a little textile hub located in the middle of the Monaghan countryside. Inspired by the surrounding landscape and a love of Celtic myths and legends. Louise has brought the stories to life in her own unique way with an outstanding fusion of colour that helps to create the other-worldly feel to her work. Each piece is an original ranging from large commissions, colourful hand painted scarves, and handmade art cards. She has completed a few noteworthy commissions including a nine-foot wall hanging for Notre Dame University's Choral Group in Indiana and a range of special hand painted silk scarves in corporate colours for CIE International Bus Tours.
Discover more about Louise Loughman Artist
I paint on silk using a batik technique, the basic principle is like the crayon and paint pictures that children do in school. I use hot wax to paint a design on the silk this acts as a resist and prevents the dye reaching the fabric. The process of waxing, and dyeing is repeated a few times gradually building shades and depth of colour. I find it extremely rewarding especially at the end when the wax is removed, and the picture or design is revealed.