Designer: Alex Thiel Goldsmith
There are two sides to the brand Alex Thiel Goldsmith. One is her limited editions of jewellery collections, handcrafted in gold and Sterling silver with precious gemstones and pearls. Simplicity and clean lines of Art Deco and architecture are often her inspiration. She likes to mix old style with modern approach. This is what led her to the second side of her business. Alex is designing and creating by hand commissioned pieces for her clients. This one of a kind jewellery is inspired by family's history. Thiel connects generations legacy by giving new life to the old jewellery, cherished by the clients. She is also re-using old gems and precious metal in the new designs to create fine art and treasured jewellery.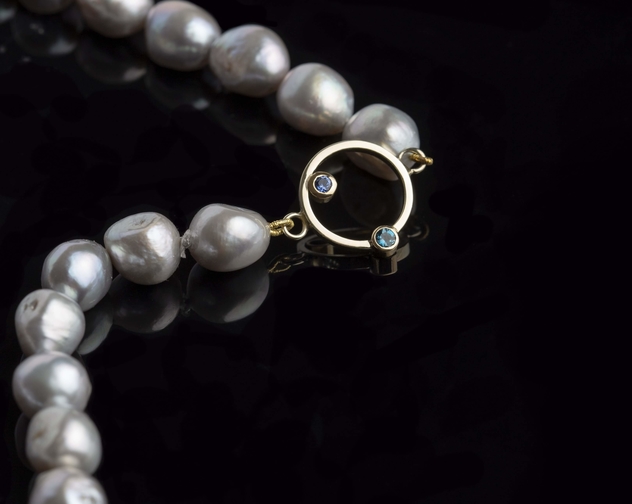 About Alex Thiel Goldsmith
Alex Thiel-Didu began her creative journey in her native Poland and found her creative home in Ireland. Originally, she was a wedding cake decorator, making intricate designs in marzipan and cake toppers, the most unusual being a request for 2 snails. When Alex moved to Ireland in 2008, she spoke very little English and knew only one person. She arrived in this place of different culture but felt at home trying to find her own path. Alex survived the challenges and found her feet and soul in jewellery. After having an opportunity to learn from a master jeweller and engraver in Cork, Don O'Mahony, who became her jewellery mentor, she finally took the plunge and moved to Kilkenny to train as a goldsmith. In her interview for a college place at The Design and Crafts Council of Ireland, she sealed the deal with her edible flowers made of marzipan and the metal interpretations of them.
Discover more about Alex Thiel Goldsmith
Love for precious metal, gems and colour in fine jewellery, is the force that leads to Alex's designs. Her work, even when very simple, often incorporates colourful gems like sapphire or emerald to add that luxury touch. Sometimes dash of colour is replaced by beauty and lustre of pearls. In her commissioned work, stories written by life that are told by Alex's clients are interpreted in personal designs. Thiel knows that often not only the final piece is what customer fosuses on, but also the meaning behind it is what equally counts.