Designer: Christina Goldston
New Yorker, gemologist and jewellery designer Christina Goldston started in her parents fine jewellery business in Brooklyn before grading diamonds at Tiffany & Co., New York and then working with Appleby and Boodles jewellers here in Dublin. Her work features intricate beading with semi-precious gemstones, pearls, crystals, glass and metals like sterling silver and gold vermeil.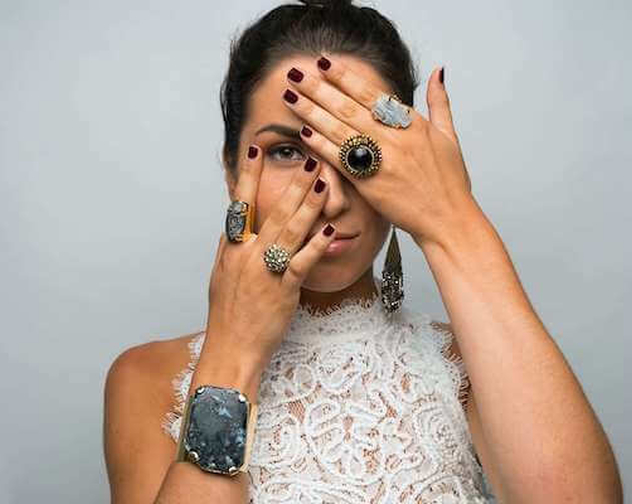 About Christina Goldston
Christina Goldston's inspiration comes from architecture, stained glass and particularly, anything Art Deco. As a second generation jeweller she has been collecting gemstones, pearls and beads since she was tall enough to reach the counter in her parents shop. A seasoned traveller and shopper at antique markets in New York, France, London, Scotland and Rome and from her time living in South America, her boxes of gems, beads and books are treasure troves of inspiration for her designs.
Discover more about Christina Goldston
My collections are colour and fashion inspired, I start by sketching from mood boards that I've put together over the year from architectural, fashion, and historical publications that have caught my eye. As a gemologist, I am constantly inspired by the natural beauty of what I work with on a daily basis: gemstones, pearls and sparkly Swarovski crystals. My next step is always picking the five to 6 most popular fashion pantone colours of that next season and sourcing the gemstones, beads, pearls, thread, wire and metal findings I will need to make my new collections. We do lots of wire work and beading in the studio to make my intricate and bold designs.