Designer: Placed
Placed is an evolving collection of hand pulled screen printed work created by René Mullin in her Belfast studio and at Belfast Print Workshop. Working primarily in Irish linen the pieces are fresh and colourful and produced with sustainability forefront in the production process. René does produce editions on paper most recently revisiting her Tae, Bainne, Siúcra designs which will be launched as a paper edition later in 2021. Her work can be found in galleries as well as Irish design and craft stores.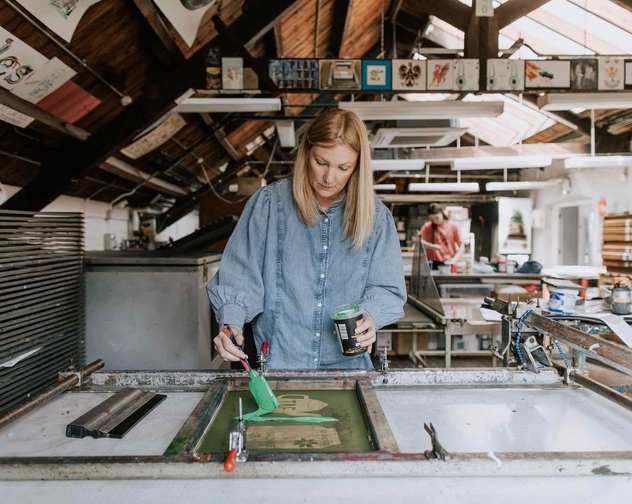 About Placed
Beginning in the creative industries within graphic design and with a deep appreciation of typography most probably developed from avid magazine reading since the early 1980's, the draw to printmaking and specifically screen printing was set. Irish linen has all of the attributes required for sustainable design, and as a canvas for print it is perfect. My work is bold, the use of colour is prevalent and the style of my work is driven by my current surroundings and sense of place.
Discover more about Placed
My current work 2020-21 is a series of pieces within a collection I have named 'Interactions', it is entirely freestyle there is little to no preparation of the overall end image, it evolves and varies as each print is pulled - this way of working and printing is entirely new to me and is moving my understanding of print to new levels. Later in 2021 there will be a solo show of irish linen wall hangings celebrating this collection. I often use typography in my work, most usually in the irish language. Working with type in a physical, hands on way has aided the development of my understanding of the irish language and of the deeply significant role it plays in our culture and heritage here in Ireland.