Designer: Edel MacBride
Edel MacBride is an Irish designer and creative working in the North West of Ireland. With over thirty years experience and a slow fashion philosophy of making beautiful things that last, collectors world wide enjoy her knitwear. A passionate advocate of wool, local textiles and keeping traditional skills relevant.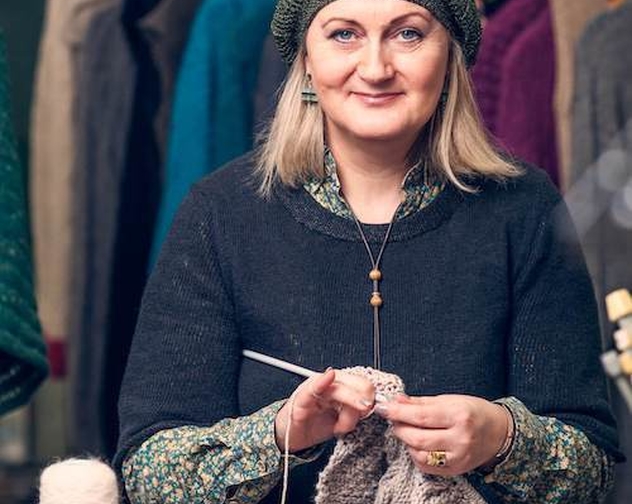 About Edel MacBride
Edel was a prolific craft hobbyist from childhood.. This passion combined with a determination on Art School led her to study fashion at Limerick School of Art in the 1980's. A Kilkenny Design Travel Award inspired her yarn loving heart in Italy, it was the bright lights of beautiful Kilcar, Donegal and a design job with the Kilcarra wool brand that brought her home. Parallel to this was a role with Irish designer Paul Costelloe working on his knitwear collections. Establishing her fashion and knitwear company initially in Derry and later in Donegal, MacBride has produced collections every year since 1989. Material choices are wool, especially tweeds and new developments with Irish fleece and alpaca. Recent collections celebrate our traditional knitting heritage, the oft unsung skills of humble craftswomen who have always known the joy and mindful power of knitting and hand craft.
Discover more about Edel MacBride
The inspiration process is multi faceted. The beauty of yarn, the subtle play of it's colour, texture and behaviour. The ever flowing tide of preference and influence that shapes our defining choice of colour, material and silhouette. Innovation is a conversation with no final destination and this inspires my making philosophy. Listening, being never totally content, the desire to make it better the next time, brings constant challenge, Knitwear is created in-house on hand loom and with a small team of expert knitters who by their own admission would go crazy without knitting! We crochet too. Having worked together for so long a language of our own, a knitcode of secrets has emerged. We just want to make things and we want people to buy them and love them forever, or love giving them. We want them to be the best they can be and bring tangible useful joy to the owner. "This is a story written in wool, performed by smart hands and needing you in the audience" Edel 2021