Designer: Veronica Roden
Veronica Roden is a contemporary Irish jewellery designer based in Aghavannagh Barracks, Co. Wicklow. She focuses on the creation of individual pieces and much of her work is one of a kind. Each piece is meticulously handmade in her studio in the Wicklow mountains. Veronica works in 18ct gold and sterling silver. She handpicks every precious stone for their unique qualities of colour and shape.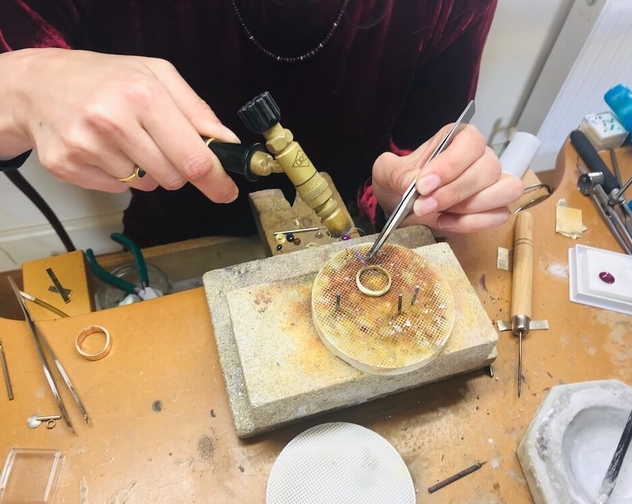 About Veronica Roden
From a creative background Veronica fell in love with jewellery making during a year in Florence studying at Alchimia Contemporary Jewellery School. Working with precious metal and gemstones opened up a whole new world of exciting experiences. Veronica found the focus and dexterity required for jewellery making fed her creative soul. So started her on a path of craftsmanship and the ultimate joy of showcasing beautiful jewels with precious metals.
Discover more about Veronica Roden
The visuals of where Veronica lives plays a large role in her creative process. Her studio set in the midst of the Wicklow mountains, provides a significant influence to the style and nature of her work. It sets a distinctive quality to her designs that are driven by the ever changing light and mood of the surrounding landscape. Mixed with jewellery influences from ancient civilisations her work evokes a sense of feminine simplicity. The design of a piece is usually led by the shape and colour of each distinctive gemstone she uses. Veronica creates every piece of jewellery herself from beginning to end.