Gift Guide
Beautiful Irish Gifts for Her this Festive Season
11 Nov 2020
Read Time: 6 mins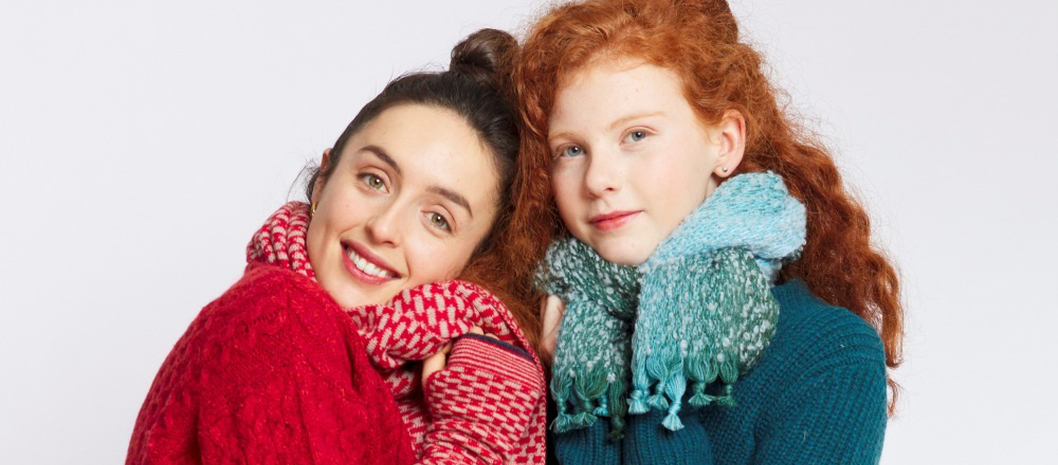 Design Ireland has gift-giving sewn up with our selection of wonderful gifts designed and made in Ireland. From knitwear to accessories, jewellery to scented candles - make this your go-to guide to the most beautiful and considered Irish gifts available this festive season.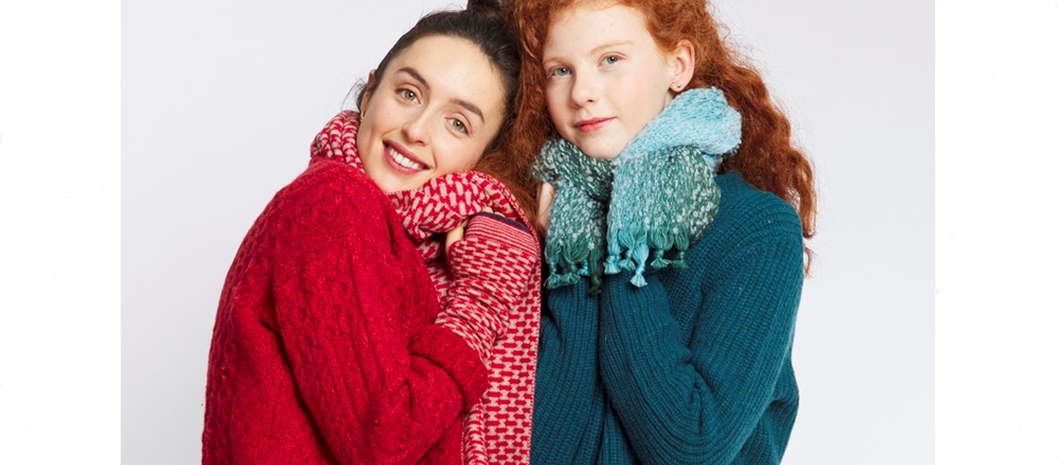 Knitted scarves and wrist-warmers by McKernan Woollen Mills.
Based in East Clare, McKernan Woollen Mills specialise in woven and knitted scarves which are sold in select boutiques, concept stores and galleries throughout Ireland, Europe and the US. Characterised by a keen sense of colour and texture, McKernan accessories are designed to adorn, comfort and uplift the wearer. This holiday season gift your loved one a beautiful knitted scarf (€69) with matching wrist-warmers (€35) made from a cosy blend of wool and cashmere (pictured left) or the wonderful 'Astrakhan' woven scarf (€69) made from a luxurious blend of wool and alpaca (seen here on the right).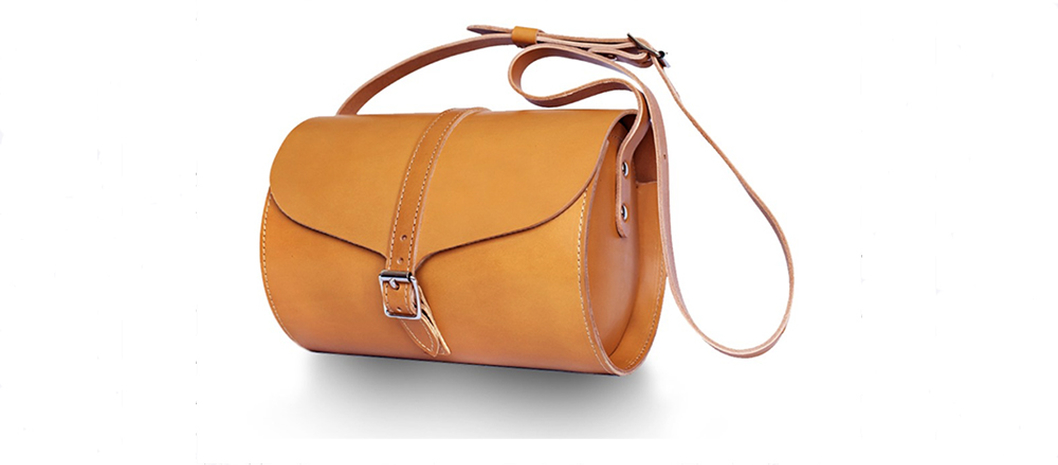 Leather bag by Lovern Leather Goods.
Handmade in Galway in the West of Ireland, the 'Curve Barrel Bag' by Lovern Leathergoods is a classic design with a timeless quality. Available in black, tan, dark green and red it is the perfect gift for women of all ages. The bag is handmade from vegetable tanned Italian leather and features an adjustable strap allowing it to be worn as either a shoulder bag or cross-body bag. The bag is closed by a buckle and is unlined with a smooth leather interior which features an envelope-style pocket ideal for holding a phone. €345.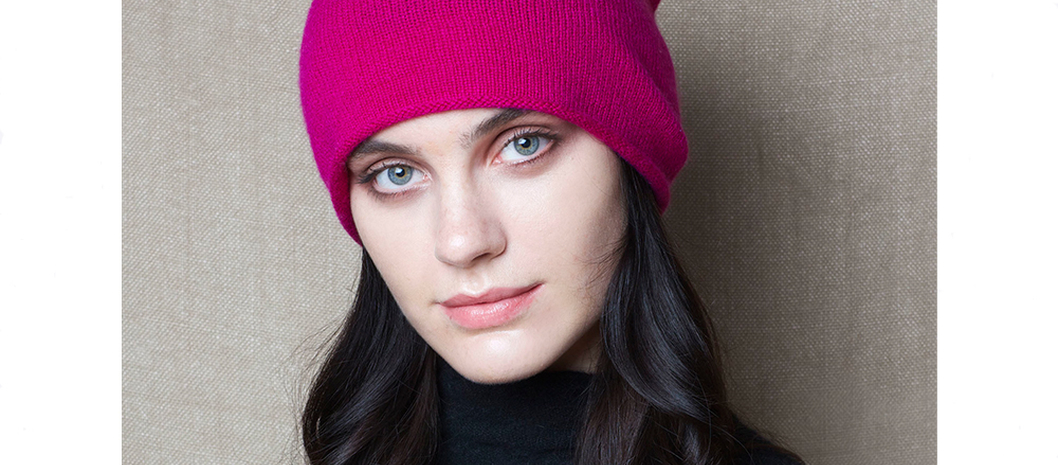 Cashmere beanie hat by Madigan.
The 'Harri' beanie hat by Madigan is the perfect foil to cold winter days and makes for a luxurious gift that can be worn every day. Available in both two- and four-ply cashmere yarn, this hat style is available in an array of colours to suit all tastes from subtle cream and pale grey to vibrant orange and the magenta colour pictured here. A cosy and classy gift to suit every personality, the 'Harri' hat is designed and made in Ireland from 100% cashmere. From €98.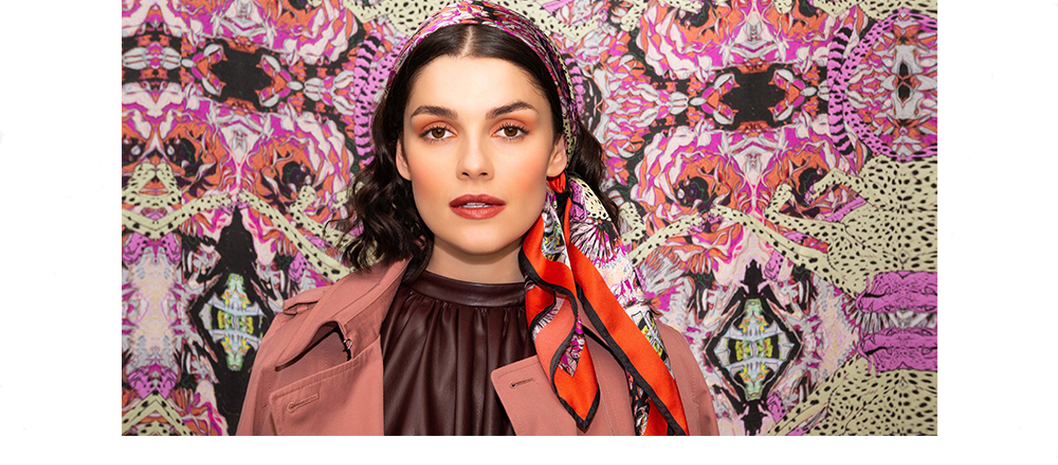 Printed silk scarf by Debbie Millington Designs.
Designer Debbie Millington's vibrant travel-inspired scarves are the ideal gift for global citizens this season. Designed in Dublin, the silk scarf pictured here is inspired by the abundant wildebeest and cheetahs found in the Serengeti National Park, East Africa. Irish design with an international flavour, the scarves are available in various sizes from neckerchief styles measuring 25cm x 25cm to large silk wrap scarves measuring 136cm x 136cm. €25 - €295.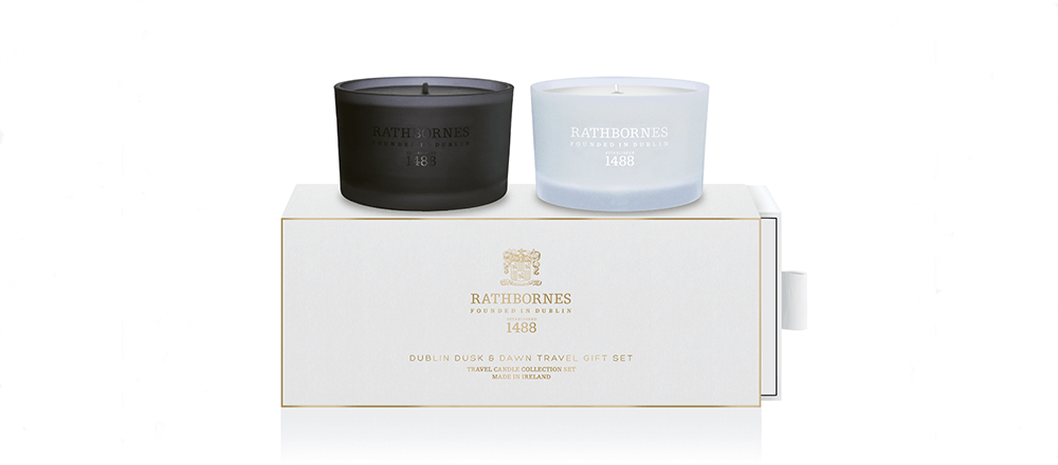 Dublin Dusk & Dawn Travel Candle Gift Set by Rathbornes 1488.
Rathbornes 1488 is the longest established company in Ireland and one of the oldest registered companies in the world. Having lit up Ireland's streets, churches and homes for generations, Rathbornes 1488 now produce exquisite scented candles inspired by Ireland. This gift set includes 'Dublin Dawn' with Irish rock rose and fresh raspberries tempered by a warm, earthy base of cedar, musk and patchouli. 'Dublin Dusk', meanwhile, is inspired by ocean waves crashing against the shore of the Irish coastline - ozone and earth combining to incredible effect. A luxurious gift inspired by over six centuries of expertise, this gift set includes two 75g single wick candles with a burn time of up to 20 hours. €40.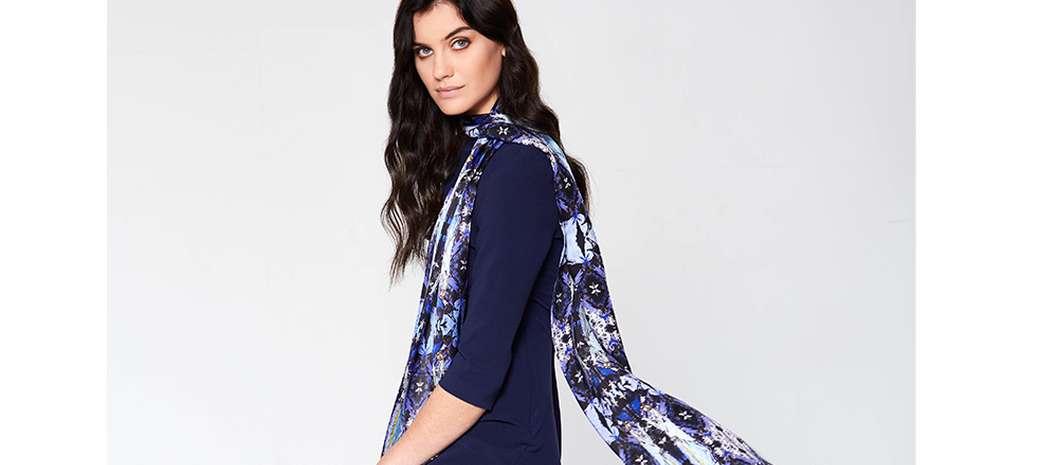 Long silk scarf by Jennifer Rothwell.
Dublin designer Jennifer Rothwell specialises in the stories of Ireland - reinterpreting nature, history and culture in the form of vibrant, luxurious prints. Her latest 'Madeleine' print is based on the designs of artist, and specialist in stained glass, Harry Clarke who was himself inspired by Romantic poet John Keats. The long silk scarf pictured here is the perfect gift for those with an artistic heart and a creative soul. The scarf here measures 33cm x 200cm (€95) and is seen with a navy dress by the same designer (€395).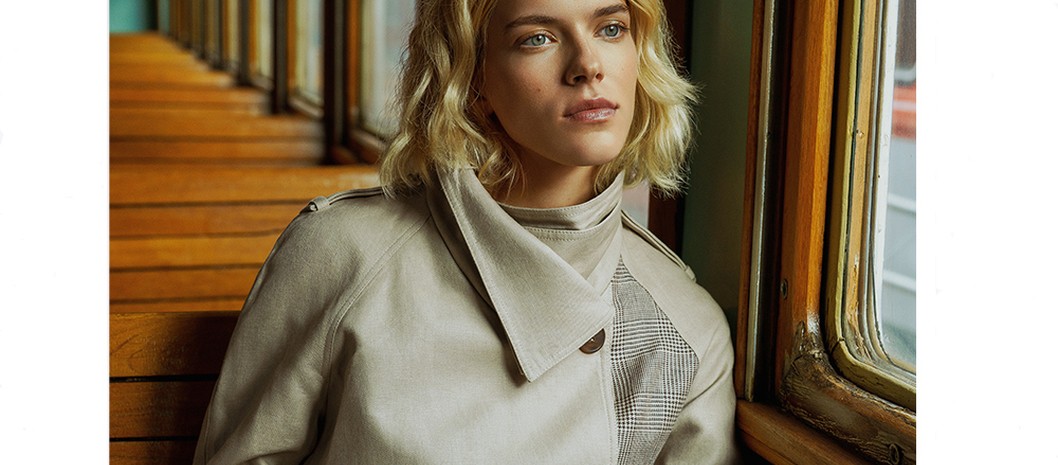 Contemporary trench coat by The Landskein.
The Landskein is a contemporary Irish tailoring brand established by designer Anna Guerin. The brand is fast becoming known for its unwavering attention to detail and its use of authentic Irish fabrics. Pieces by The Landskein embody a luxurious ease that is rooted in tradition, yet modern in application, and Guerin's designs have been warmly received during Paris, NY and Tokyo fashion weeks. The 'Horizon' trench coat pictured here is made in Ireland from 100% Irish linen with check blocking. A luxurious gift for the aesthete. €1,295.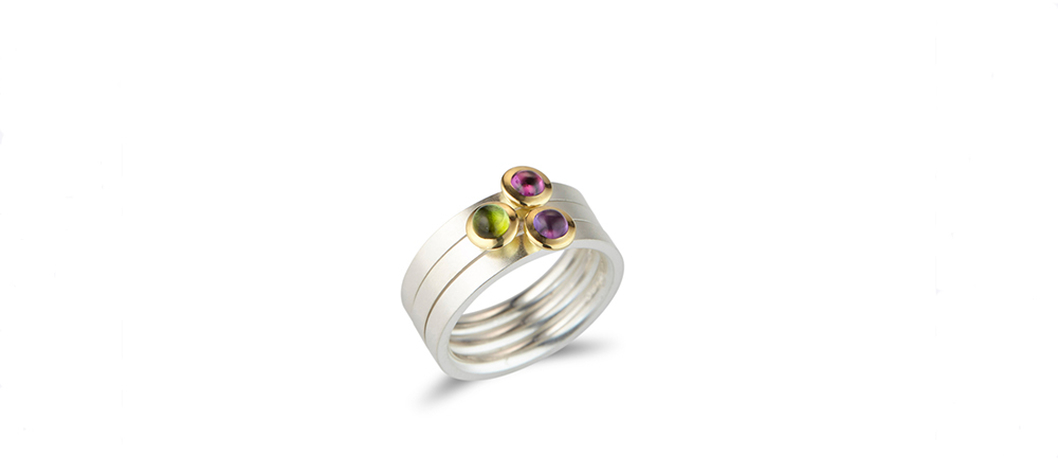 Jewelled stacking rings by Stonechat Jewellers.
Specialising in contemporary handcrafted Irish jewellery, Stonechat Jewellers was founded in 2012 by goldsmith and jewellery designer Ann Chapman. Stonechat has become renowned for its contemporary, minimalist designs. Stonechat's playful 'Kaleidoscope' collection is characterised by stacking rings in silver and 18ct gold with cabochon gemstones. They can be worn stacked to make a statement or alone for a subtle and elegant look. Pictured here is a set of three silver rings with gold bezel including garnet, amethyst and tourmaline (€750).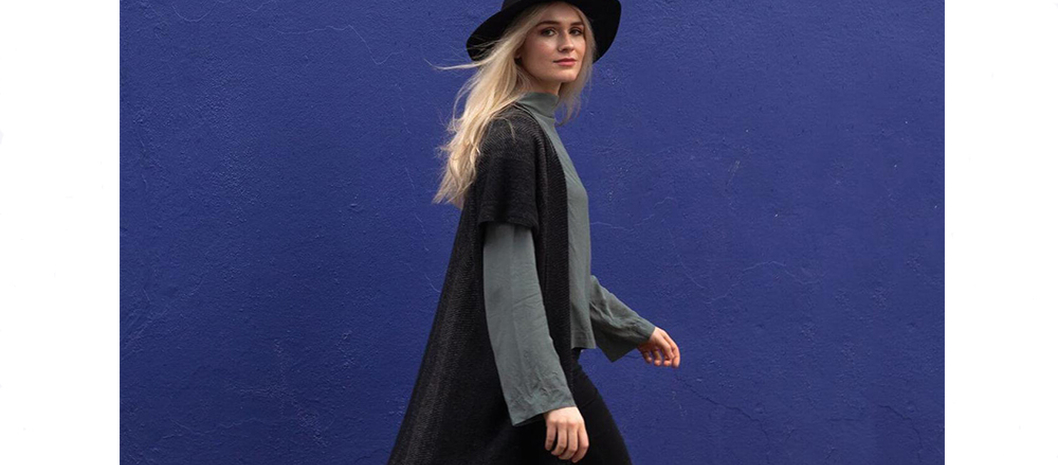 Kimono-style cardigan by Fiadh Woven Design.
Fiadh Woven Design make ethical woven accessories on the Dingle Peninsula along Ireland's Wild Atlantic Way. Inspired by the ancient Irish words for 'deer' and 'wild', founder Fiadh creates accessories, baby blankets and clothing which are handwoven in the colours of the natural landscape. This kimono-style cardigan is a timeless piece and a versatile gift which can be worn on both casual and more formal occasions. €170.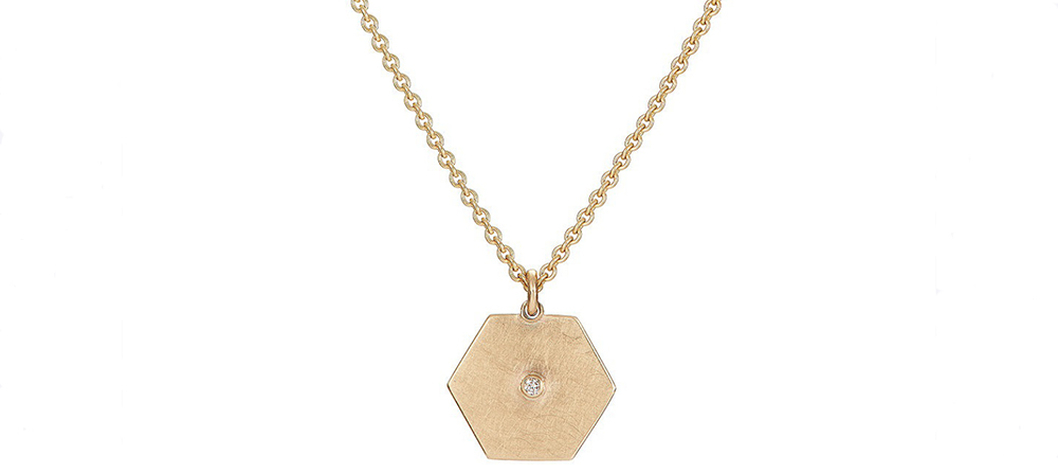 Hexagon pendant by Rachel Swan.
Dublin-based jeweller Rachel Swan creates elegant modern Irish jewellery to suit people of all ages. Handcrafted in precious metals her jewellery also incorporates lustrous pearls, iridescent opals and rich gemstones. Part of her 'Hexagon' collection, this pendant features a satin finish and a tiny, but lovely, rare grade diamond. Light and easy to wear, this necklace will add sparkle to the everyday. €280.
Handmade seaweed block prints by Superfolk.
This stunning set of botanical prints is handmade in the West of Ireland by Superfolk - a brand renowned for its precision, attention to detail and natural aesthetic. Each print is block cut by hand and then hand printed onto washi paper sourced from a Japanese family business which has been making paper for eight generations. Characterised by elegant natural shapes and hues, these prints immediately take the viewer to the outdoors and to mornings spent foraging for seaweed in ice-cold Atlantic waters. The perfect gift for nature lovers, design aficionados and, perhaps, sea swimmers alike, this carefully considered art print set costs €250.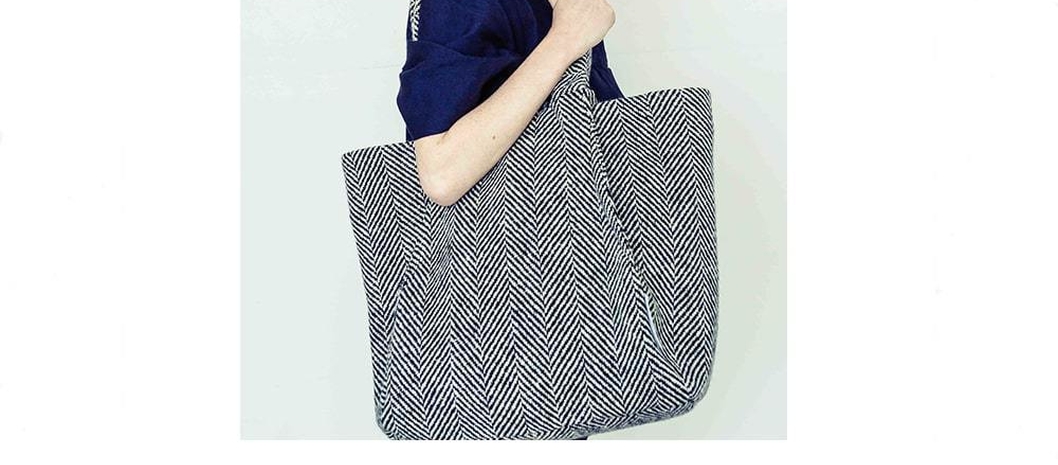 Handwoven Donegal Tweed bag by The Costume Room.
This cool and contemporary oversized bag from Dublin design studio The Costume Room is the perfect gift for those on the go. Made with Donegal Tweed hand-woven exclusively by master weaver Eddie Doherty, this bag is designed to be worn on the shoulder. With a zip closure, an internal pocket and black linen-mix lining it is the perfect statement piece. €295.