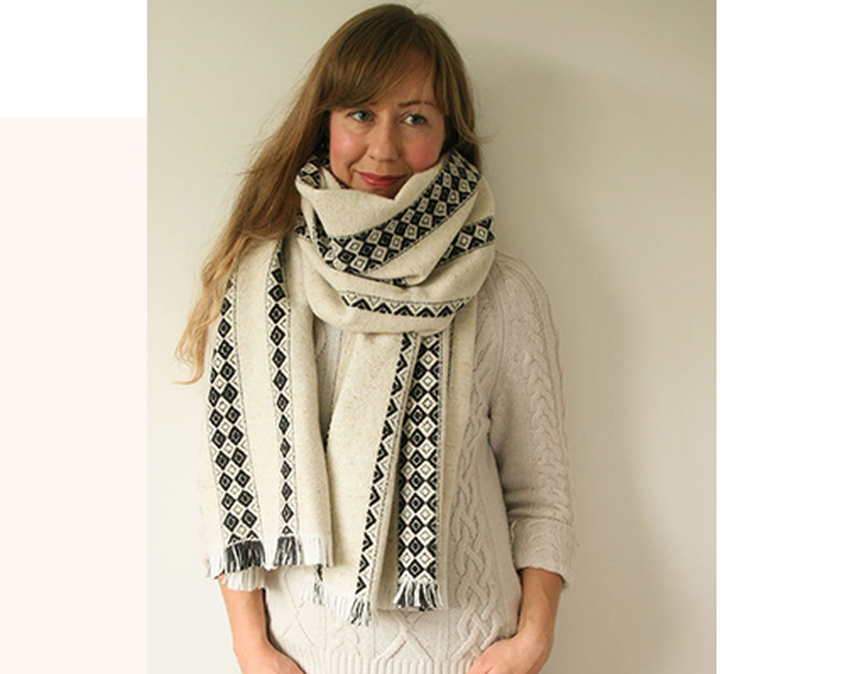 Designer: Olla Nua
Fashion
Accessories
Antrim
I love to make practical yet beautiful handwoven textiles that can be worn, carried or used to bring comfort and tactility to our homes. The name Olla Nua comes from the Irish words for 'new wool', reflecting my aim to use this natural, sustainable material in a modern, imaginative way.
About Olla Nua
The handweaving process allows me to re-imagine cloth; to be inspired but not limited by our craft heritage. I strive to make textiles that are as beautiful to touch as they are to see, that are functional as well as decorative.
I grew up on a small farm in County Fermanagh, where I developed a love for nature and making things. I learned to weave at the National College of Art and Design, and was instantly intrigued - the design possibilities seemed infinite, and the making process was structured and mechanical. Working primarily with wool, I use a range of Irish and UK-spun yarns in my work with a particular focus on Donegal yarn with its distinctive fleck.
Discover more about Olla Nua
Home is a feeling...I believe that the tactility of cloth has the potential to evoke that sense of home wherever it is carried, worn or placed.
I'm fascinated by the natural properties of wool – its texture, warmth and ability to change depending on how it is manipulated during the finishing process.
I weave on traditional floor looms, powered entirely by hand and foot. I enjoy working directly with the materials, right through from initial design to finished cloth. Weaving everything by hand means that I can produce short runs of cloth, so waste is minimal.
After the meticulous setting up of the loom and weaving, the cloth is washed and often lightly felted to produce the desired softness and texture. Cutting and stitching follow, sometimes combining the handwoven cloth with Irish linen.